Welcome to The Fire Fighters Charity
This last year has been an exciting time for us here at The Fire Fighters Charity – not only marking our 70th anniversary, but also the start of our rehabilitation services being delivered over seven days of the week and the official opening of Marine Court's new rehabilitation wing. Fire fighters put their own lives on the line to save others every minute of every day. Many sustain serious physical injuries in the line of duty and many more go through emotional trauma after rescuing people from desperate situations. We give the fire community and their families the support they need to stay healthy and doing their jobs well.
Our new flexible programme of rehabilitation allows for a more bespoke length of stay and enables us to fulfil our beneficiaries' needs more effectively. Our increased intake days are now supporting fast track and slow stream rehabilitation, as well as our new mental health and emotional wellbeing services. Waiting times have also significantly reduced, all thanks to our new 7-day-a-week service. Ultimately, fire fighters are now able to return to their life-saving work much sooner.
Our Charity receives no government funding, meaning we can't provide our vital services without your help!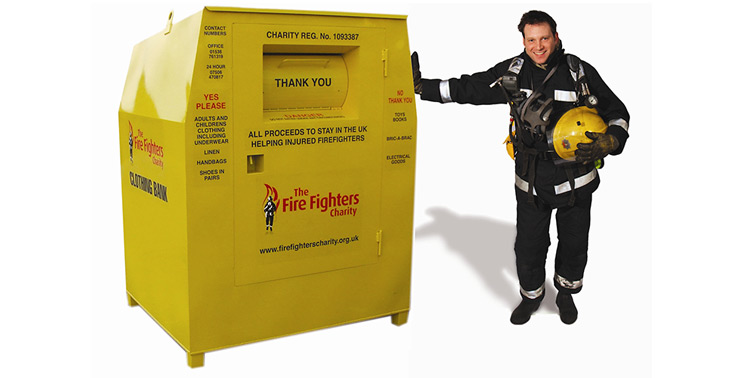 How to help The Fire Fighters Charity!
From volunteering your time to taking part in local fundraising events or planning your own, there are hundreds of ways to get involved with The Fire Fighters Charity. Efforts of every shape and size are very appreciated by us and the thousands of fire and rescue community members we help each year.
There are lots of ways that you can get involved with the Charity and support our work.
Challenge Events!
Cycling Events
Running Events
Online Fundraising
Volunteering!
Recycling
If you're still stuck for ways to give, why not help us by recycling for the Charity? If you're throwing away old clothes that are no longer of any use to you, then send them to us.
We run a successful recycling scheme which provides a valuable source of revenue for the Charity at no financial risk to the Charity.
Over £250,000 is raised every year and with your help this figure is increasing. Our recycling partners manage our recycling initiative across the UK, with the following donations coming straight to The Fire Fighters Charity:
Textile banks on fire stations £220 per tonne
Textile banks on other community sites £150 per tonne
Textile bags for 'door to door' collections £100 per tonne
Textile bags for school collections £100 per tonne
Book Banks on fire stations £50 per tonne
Please call our Recycling Hotline on 0845 319 6566 if you have a recycling query.
To show your support, visit The Fire Fighters Charity Website